Evidently right wing hate is OK
Posted by John, September 19th, 2012 - under Islamophobia, Muslims, Placards, Right wing, Signs.
Tags: Hate groups
I know we are all concerned about placards that might be construed as wanting someone dead.
And I know we all support brave 'Aussie values' police in attacking demonstrators in Sydney a few of whom had stupid and reactionary placards reading 'behead those who insult the Prophet'. One was carried by a child.
This has provoked outrage across Islamophobia, the country formerly known as Australia.
So let's delve into how the police have treated others who have similar placards or posters or call for the death of someone because of their sexuality, politics or religious beliefs.
Let's start off slow so even the right wing nut jobs can follow the argument. Here's Tony Abbott at an anti-carbon tax protest.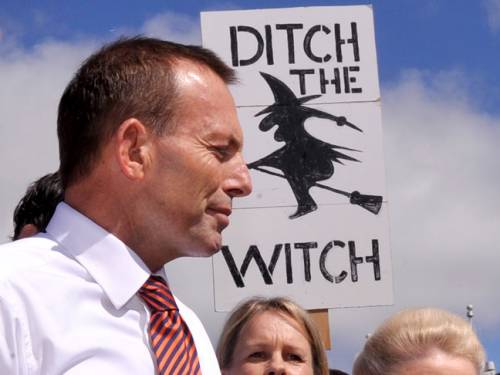 Mr Abbott spoke to the rally in front of placards with slogans like "Ditch the witch". (AAP)
But wait, there's more. Here is Abbott again:
Now clearly these were offensive, and Abbott, after the public relations nightmare that was beginning to envelope him grew, apologised.
OK, the placards might have been in bad taste but they didn't threaten violence did they? No, but they display a lack of respect for leading political figures which could easily move in that direction especially if the right wing fires up its foot soldiers. 
And they set the scene for the degeneration of politics into a right wing blood bath moving from words to deeds. In Norway where open Islamophobia is part of the conservative mainstream, the words became deeds in the form of Anders Breivik and the murder of 77 Norwegians, mainly young Labor Party members.  
The creeping authoritarianism feeds upon itself. In 1992 Paul Keating introduced mandatory detention, effectively imprisoning people who have committed no crime for long periods as punishment for exercising a legitimate right. These detention centres are concentration camps in the tradition of the US-Spanish war in the Philippines, the British in the Boer War and the Nazis when they first came to power and locked up communists, socialists, union leaders and others.
In Australian society the all pervasive Islamophobia, set to get worse after Saturday's demonstration dn the frenzy of denunciation, has pervaded so many sections of society. The Nazis have used anti-Islamic rhetoric to build support and wheedle their way into the mainstream.
Thus at pro-Max Brenner demonstrations and meetings organised by  Zionists and others, fascists have attended, and in one protest Brisbane, spoke.  Their Islamophobia unites them and mainstreams the fascists. The current hysteria may enable the Nazis to gain more ground.
Back to 'Ditch the witch'. We can be sure there was no police investigation of the 'Ditch the witch' groups to see if they had more sinister motives. None whatsoever. And I bet London to a brick on none of them has an ASIO file.
A few months after this anti-carbon tax rally right wing radio 'personality' Alan Jones helped organise a convey of no confidence to Canberra.  Only a few hundred turned up and Jones claimed that Australian Federal Police had turned them back at the ACT border. Wrong.
The cops had stopped them for a few minutes to explain arrangements to get to Parliament House.
One female journalist at the rally asked if Jones had been paid for his attendance. Here's how Insiders puts it:
ALAN JONES: I've just been asked by a journalist from the Sydney Morning Herald am I getting a fee for being here today?
JACQUELINE MALEY, SYDNEY MORNING HERALD: He took great exception to that question and he became enraged and proceeded to abuse me.
ALAN JONES: (Speaking to Jacqueline Maley) How can you look at yourself in the mirror?
JACQUELINE MALEY: Very easily thanks.
ALAN JONES: Oh I bet you, you. You (inaudible)
(Addressing crowd) Where is she? Oh she's gone, disappeared.
JACQUELINE MALEY: I felt very intimidated. I suppose I did feel at risk.
As far as I know there has been no police investigation of this possible threatening behaviour.
Alan Jones is worth persisting with. Five times on radio he made some reference to putting the Prime Minister in a chaff bag and dumping her at sea. The Australian Communications and Media Authority found the comments disparaging and disrespectful but said they did not incite violence or brutality.
Maybe the question of incitement to violence is a matter for the police in a criminal context, not just the ACMA in a regulatory context.  As far as I know there has been no police investigation into whether Jones has committed an offence by his comments.
Let me be disrespectful and disparaging.  After the revolution Alan Jones will be made to clean toilets.  It shouldn't be too much of a change for him. After all he deals in horseshit every day. The other end of the chaff bag you might say.
What about when Grahame Morris, former Howard adviser, said on Sky News that Australians 'should be kicking Julia Gillard to death.' As far as I know there has been no police investigation.  Indeed, the media didn't even report it for a while.
Maybe these are all just examples of robust political debate. Maybe, but if that is the case then so by the same token is 'behead all those who insult the Prophet'. One justified a police riot; the others provoked nothing but police inaction.
Here's one poster that seems to be in the same league as those at the Sydney protest. 
 I wonder if the riot police, the dogs, the batons, the capsicum spray are all at the ready to be used against the 'violent extremists' putting out this call to kill people. Brace yourselves.
Pretty shocking eh? This looks like a call to kill 'the reds', posted over  Left Action student election poster at Curtin University.  Presumably Left Action are the reds the poster is referring to.
Now my powers of logic can be a little faulty but better dead than read in this context does seem to imply that the reds are such a threat to society they should be dead. Given most of the Left Action ticket are young and probably have at least another 60 years in front of them, the only conclusion I can draw is that the sign is calling for the reds to be put to death.
The phrase supposedly emerged from the Nazis as Soviet troops advanced. It was used by them to urge resistance. In the McCarthy years it was part of the argument about how bad communism (or Stalinism to be more precise) was so you'd be better off dead than be a communist.  
So maybe these people are really just suggesting they would rather be dead than read. Maybe what they mean is that if Left Action wins the student elections they will kill themselves because they couldn't bear to live under a communist regime.  I doubt it very much given the context.
Which group put this poster out? The Curtin Capitalist Society. I can find no reference to it on the Curtin University of Technology website. But it does have a facebook page. The page says:
 
The Curtin Capitalist Society, founded August, 2012, is founded on the principle of the revolution of Capitalism of society, and how communism, socialism, Marxism and all forms of centralized government control has corrupted society.
With sexy parties containing canes, monocles, top hats and penguin suits, and a love for scotch, the CSS is the perfect group for all people wanting to enjoy the good things in life.
So it looks like a mixture of politics and piss, the market and make believe, wannabe ruling class twits.
But the question remains. Why aren't Western Australian police investigating what appears to be a clear case of a death threat against political opponents?  What is Curtin University doing?
Surely we can't have such threats contaminating young minds at Curtin can we?
Nothing will happen. No cops, no dogs, no pepper spray, no batons.
It is one rule for Muslims and another for the kids of the rich or the mostly white rich wannabes. 
What is good enough for Muslims is good enough for rich white bastards I say. 
Over to you Western Australian police. Over to you Curtin University of Technology. 
Let's cut the WA police some slack.  Maybe they are too busy locking up Aboriginal people to investigate the possible crime this poster seems to display.
Parents and Friends of Lesbians and Gays has just bought to my attention (25 September) that Left Action is also under attack for running gay candidates. Here's how some chalking urging a vote for Left Action which has been defaced by homophobes:
Toxic.  Maybe this is happenning because Left Action are winning support for turning the guild into a fighting student union. Faced with reasoned argument all the intellectually challenged barbaric right can respond with is abuse and threats.
Then of course there is the Christian right and its homophobia. This sign, held by a child in America , says it all.
I don't see any Community Service people, any cops, any riot police, dogs, batons anywhere in sight. Do you?
I wonder why that is? Could it be that the hysteria generated over a few placards about beheading those who insult the Prophet is actually about racism and Islamophobia and using that stupid 'behead' placard is a justification for the attacks on the oppressed.
When the signs are held not by the oppressed but by the oppressors or dupes of theirs, they get off scot free from police brutality or even investigation or arrest.
Of course this is an American photo, and they have the first amendment in defence of free speech. Something like this could never happen in Australia, could it?
Here's an interview between a major in the Salvation Army, Andrew Craibe and journalist Serena Ryan. They were discussing the Salvationist Handbook of Doctrine.
Ryan: … If I go and I read that, and I connect with my sexuality Andrew, then that says according to the Salvation Army that I deserve death. How do you respond to that, as part of your doctrine?
Major Andrew Craibe: Well, that is a part of our belief system…
LGBT journalist Serena Ryan (interrupting): So we should die?
Major Andrew Craibe: You know we have an alignment to the scriptures but that's our belief.
LGBT journalist Serena Ryan: Wow, so we should die. So this is on page twenty-eight of the Salvation story which you can download online. It's wonderfully available, I love that. If we go a bit further into sin which is on page sixty-one and sixty-three again it's going into Romans again. And look I accept that you're out there wanting to help people. I don't consider myself to be a part of the oppressed or the marginalised. I don't accept that this sexuality that is a part of my DNA is a choice. I also don't accept the support of any religion in a financial sense, and this is what the gay community is up in arms about: that you're proposing in your religious doctrine and the way that you train — this is part of your training of your soldiers — that because we're gay, that — we must die. If you go to Romans, book 1, 18-32, it's all there, mate. I mean, how can you stand by that? How is that Christian?
Major Andrew Craibe: Well, well, because that is part of our Christian doctrine –
LGBT journalist Serena Ryan (interrupting): But how is that Christian? Shouldn't it be about love?
Major Andrew Craibe: — that's our understanding of that. Well, the love that we would show is about that: consideration for all human beings to come to know salvation –
LGBT journalist Serena Ryan: Or die. . .
Major Andrew Craibe: Well, yes.
The Salvation Army later apologised saying the text means spiritual death. But how could it be that Craibe, the Salvation Army's Territorial Media Relations Director for the Southern Territory in Victoria, and with his years of Salvation Army training, hadn't got that message?
As far as I know no police investigated Craibe's remarks.
People have been up in arms that at the rally a child held one of the 'behead' placards. Well, here's some Israeli children 'up in arms' writing messages on Israeli bombs. I haven't noticed any mainstream media mention let alone condemnation of this.
Australia of course has its own kids' indoctrination units. They are called schools. But more than that generations of kids are indoctrinated with the ANZAC spirit from an early age to make killing others for Australian capitalism acceptable.  The military funerals for those killed in Afghanistan are part of this indoctrination into accepting the good Aussie value of invading other countries and killing the people there – men, women and children. 
Then there is the gross racism against Aborigines and Torres Strait Islanders. One recent indication of this has been racist Aboriginal sites on facebook and comments which clearly incite violence against indigenous people. As far as I know there has been no police investigation.
Some are attempting to hold another demonstration on Sunday in Melbourne in defence of Islam. A text message in response (available from various media sites) calls for a counter demonstration and uses descriptions not fit to reprint and talks of battles and says: 'They thought the Cronulla riots were bad'. The police are investigating.
Relying on the police to enforce the law against the one percent and those on their side is a pipe dream. At best maybe the State needs some right wing nutters banged up to show they are even handed.
The alternative is mass mobilisations. Here's how some activists in Lismore dealt with the gay hate truck of Peter Madden.
The right wallows in hate; the currency of the Left is hope.
If you have other examples of the right making threats that deserve further investigation, but which won't be, feel free to put them here in the comments section (see the link under the heading) or post to me.
Here is a link to a Socialist Alternative video of eyewitness shots of the police violence.  https://www.youtube.com/watch?v=Lh8AG5tOEEA&feature=player_embedded
Advertisement
Comments
Write a comment