Jeremy Corbyn through my Australian eyes
Posted by John, September 13th, 2015 - under Jeremy Corbyn, Labor Left, Labor Party, Neoliberalism, Resistance, Socialism, Socialism from below, Solidarity magazine.
Tags: ALP, Austerity, Australian Labor Party, Fighting back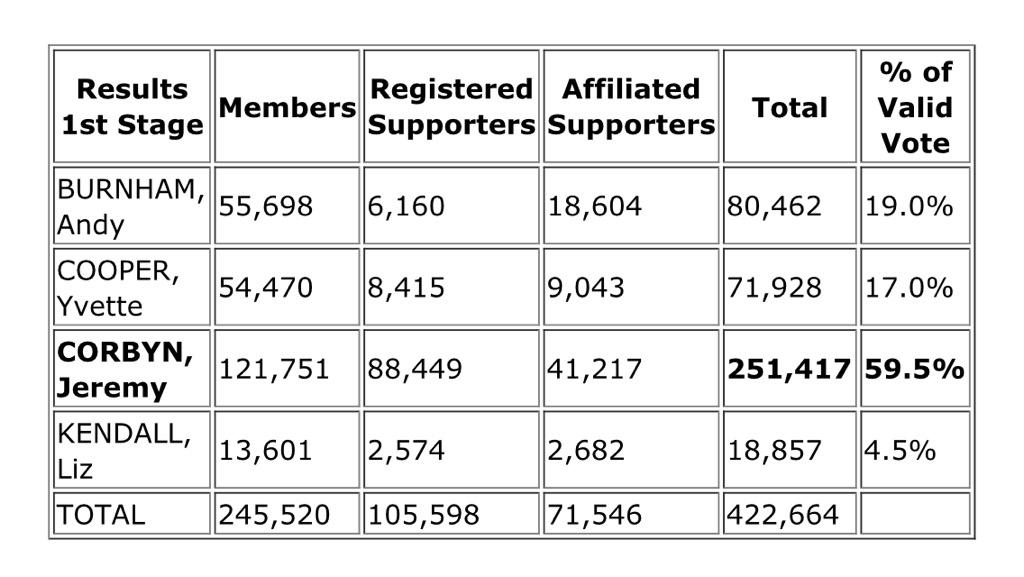 Jeremy Corbyn has won a stunning victory to became leader of the British Labour Party.  With almost 60% of the vote, with more than 250,000 voting for him, his win is astounding and will secure his position for a time.
The Blairites, the establishment, the newspapers almost to a man and women, all ignored him, then as he won support for his ideas, began to disparage him. The Blair clone who received 4.5% in the leadership vote claims Corbyn is unelectable. Not true. By presenting an alternative it is possible he could reinvigorate Labour and destroy both the Blairite disease within and the Tories after that.
Every step the elite has made, divorced as they are from the concerns of working men and women and the compassionate section of the middle class, has been a misjudgement of Corbyn and all he stands for.  Actually it is not just a misjudgement but a complete failure to understand the Corbyn phenomenon and why so many have flocked to his side.
He has revitalised the Labour Party. In the six hours after he won 10,000 people joined the party.  He is attracting lots of support from previously disenfranchised young people who were tired of the tweedledee and tweedledum of neoliberal austerity politics in Britain.
His clear identification of the ruling class as the enemy has seen a large number of former Labour voters who deserted to  the racist UKIP consider coming back to Labour.
Corbyn is a self-declared and proud socialist. His policies and actions give a clue as to why his message resonates with so many people.  All his long adult life he has been a socialist, not just sprouting the ideas but being part of the struggle. This meme captures both his activism and the reason why his enemies, both Tory and Labour, fear him.
So what is Corbyn's vision and what are his goals? His vision is a fairer, more just Britain. His policies include taxing the rich, renationalising the railways, not cutting but improving public services, cutting defence spending, opposing war, supporting Palestine …
Corbyn voted against the invasion of Iraq. He was the only leadership candidate to vote against the Tories' Welfare (Cuts) Bill.  He will get the Bank of England to print money to fund necessary social expenditure if needed.
After his election he spoke to an enthusiastic crowd of up to 100,000 people in London rallying for refugees. Here is a video of his speech to that rally. Can you imagine an ALP leader or contender doing this, let alone making these arguments?
Let's be clear. None of what Corbyn wants is in itself socialist.  His economic policies are, as Michael Roberts argues on his excellent blog, the next recession, moderate Keynesianism.
That is not the point, at least not at this stage. What he says challenges the neoliberal consensus and offers hope to millions.
Here is a man of principle, a man of the left, who has argued for many of the causes people like me have argued for, driven by a sense of compassion and an understanding that austerity is not the way forward. This principled man of the left has attracted hundreds of thousands to his side.
As leader of the Labour Party he now has the opportunity to attract millions and turn British politics on its head.  As Corbyn said he sees his task being to turn the Labour Party into a mass movement for equity and justice.
Socialists cannot stand aside from this and must work with Corbyn and the revitalising Labour Party in the many campaigns that will I hope have new life in them. How they do that in Britain is  a question for them to work out.
Many of my readers will be hoping for a Jeremy Corbyn in Australia to move the Labor Party here to the left.  There will be no Corbyn in the ALP. The Labor left, such as it is, is thoroughly imbued with the logic of neoliberalism. In the main it is a tribal allegiance rather than an ideological ferment of ideas to challenge capitalism. You never hear the S word from these very models of a modern major general of capital.
None of the possible contenders for Corbyn down under have the same track record as Corbyn in opposing austerity or fighting against social and political injustice.
Indeed people like Albanese and Plibersek have been Ministers in Labor governments that have implemented neoliberal policies and attacked public services and workers rights and conditions.  They are part of the very problem Corbyn is fighting against.
If only Albanese did mobilise tens of thousands of Labor members and supporters out on the streets in defence of refugees, pledging to close down Manus and Nauru and to welcome the boats. If only Plibersek called on the thousands to march against bombing Syria.
Fat chance.  There is no Jim Cairns with a support base in the ALP anymore.
The Greens sprout some of the same sort of ideas that Corbyn does. Unlike him, they have abandoned the struggle on the streets for bums on seats in Parliament.  Not only that but they don't see the world in class terms. Corbyn for example won the support of a number of unions in his campaign for the leadership. The Greens talk in terms not of left or right but straight ahead.
Of course there are a range of people in Australia who could be Jeremy Corbyn. They just are not in the Labor Party or Greens. They are in the social movements and the socialist and other small radical groups across Australia. They don't have a big base on which to draw. So the next time you see me or one of my comrades selling Solidarity magazine on the streets or campus somewhere feel free to come up and talk to us about the rise of Corbyn and how we can defeat Abbott and his alter ego, Shorten.
From little things big things grow.
We can see the different anti-austerity politics playing out across the globe. From Bernie Sanders in the US, to the shifts to the left in Ireland, Spain, and of course the rise and fall of SYRIZA,  among others, millions are looking for left wing alternatives to the rottenness that is capitalism today.
The failure of conventional politics in Australia to express the basic social democratic desires of millions of Australian workers means in the longer term that the explosion, when it comes, will be outside the Labor Party and may destroy it. I see my task among others continuing to be to make the case for revolution, not just reform, but to join with those who are fighting for reforms so we can build an anti-capitalist movement out of which a revolutionary socialist organisation based in the working class can coalesce.  That means for me building groups like Solidarity so we can connect to those workers and others moving to the left when it happens.
.
Advertisement
Comments
Write a comment