If it happens, will a Labor government make much difference to wages?
Posted by John, May 16th, 2019 - under Uncategorized.
Tags: Equal wages for equal work, General strike
Of course, a Labor government will make a difference to the industrial landscape. Its minor industrial law changes, plus the abolition of the Australian Building and Construction Commission, are welcome. But like much of Labor's program, they do not go far enough.
Sally McManus has warned that the right to strike is almost dead but then side-tracks us into the ACTU campaign to "change the rules". Workers need more than words. Change the rules translates to Vote Labor and a Shorten government will fix things up. This ignores a couple of important facts.
There has never been a legal right to strike in Australia. At best, there have been periods when Parliament has allowed strikes but closely controlled them and imposed financial – and sometimes penal – penalties on "offenders".
Fifty years ago (almost to the day), John Kerr (yes, that one) gaoled union leader Clarrie O'Shea for "contempt of court" for failing to open up the union's accounts. The union had had fines imposed as a result of taking industrial action.
Rolling general strikes across Australia, organised by left-wing unions, saw the fines paid by a rich benefactor and O'Shea released from jail after five days. The employers and the government were too frightened by the rolling general strikes to use the penal powers for some time.
In recent times, both Labor and LNP governments have legislated restrictions on strikes. Paul Keating, for example, gave us Enterprise Bargaining and limited strike capacity to the bargaining period. John Howard gave us the hated Workchoices, built on the philosophy we are all individuals capable of negotiating our own best wages and conditions.
The Rudd Labor Government's Fair Work laws were WorkChoices Lite. Among other things, they kept the restrictions on striking, only allowing it in the bargaining period.
Shorten Labor in power won't enshrine a general and unqualified right to strike in law.
Striking is a key to understanding why wage rises are low today. Outside the bubble of Parliament, women are over-represented in the low paid sections of the workforce and in part-time work. The Morrison Government has done nothing to confront the structural imbalance that is the gender pay gap.
The Labor Party has promised to address this gap. But given the problem is an expression of the capitalist system in Australia it is difficult to see how this can happen without mass strike campaigns led by women workers in female-dominated sectors.
Despite Australia being (according to the Department of Foreign Affairs and Trade) the wealthiest country in the world, poverty – which, to continue a theme, is gendered – remains high.
Wages growth has been very low in Australia since 2013. As Greg Jericho and Gareth Hutchens said in The Guardian:
'… the average Australian household has less disposable income in real terms than when the Liberal/National Coalition took power in 2013. And the major reason is persistent low wages growth.'
That persistent low wage growth helps explain the underlying disquiet with politics and the major political parties. But some people did alright. In 2017-18, profits grew five times faster than wages. This continues a trend in place since the mid-1980s.
Saul Eslake in The Conversation has helpfully put the wages and profits share of national income since 1960 into one graph for us to see the long-term results: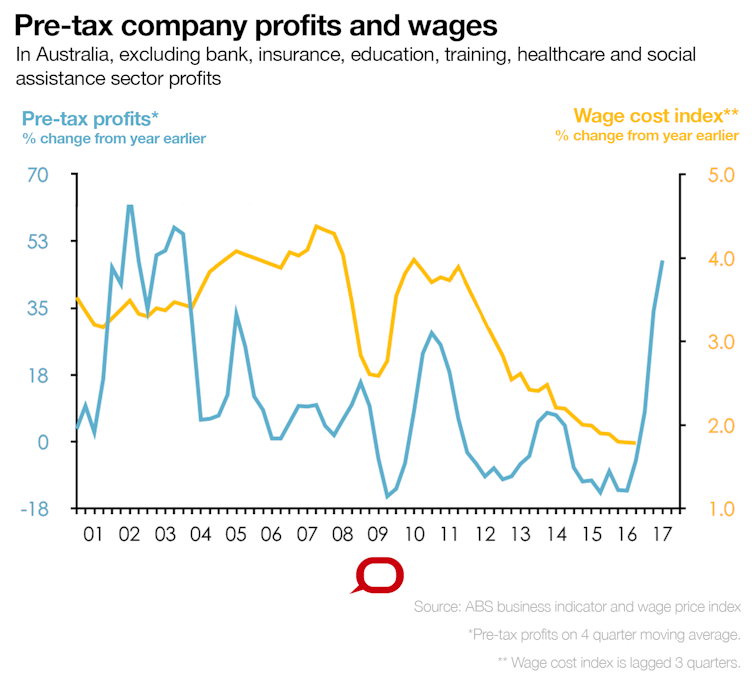 (Source: The Conversation)
Without radical policies, that trend is likely to continue.
Another key set of figures which help explain the political, economic and social morass we find ourselves in, including low wages, are the strike statistics. In 2018, strikes and other industrial action remained at historic low levels.
Director of Australia Institute's Centre for Future Work, Jim Stanford, found a close statistical relationship between the level of industrial action and the growth of wages over time:
(Source: The Australia Institute)
The lack of strike action not only leads to lower wages, but it also blunts our class consciousness and reduces our political awareness. This has all sorts of political consequences, including the long-term trend to fewer first votes for the Labor Party.
Labor's wish and prayer proposals for a living wage, and for increased wages for child care workers, are welcome, but do not go far enough. Without an unfettered right to strike and workers exercising it, any minor wage benefits Labor gives will be eaten away by the bosses in their war on wages.
Advertisement
Write a comment