Posted by John, September 24th, 2014 - under Abbott government, Iraq, Islamic State, Red flag, US imperialism, War, War on terror.
Comments: 2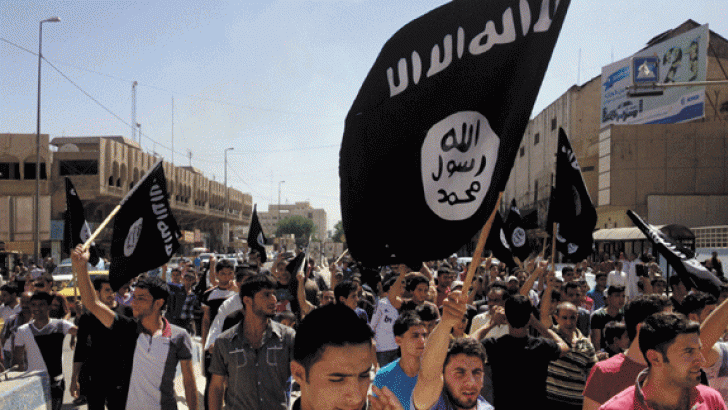 The Australian government's attitude to the cataclysmic spiral of violence tearing apart the Middle East gives the notion of blissful ignorance a new and deeper meaning writes Corey Oakley in Red Flag.
Abbott is like a kid in a candy store. As far as he is concerned, this Iraq War II is John Howard's war on terror all over again, only this time the AFP raids and terrorist beheadings are tweeted live, and Tony "Team Australia" Abbott is the man with the plan.
It's an all-new Boy's Own Adventure, a rollicking tale from a world in which the Iraq war had nothing to do with the creation of ISIS, and George W. Bush was a president known for his gravitas and wit. And, most important for Abbott, Islamic State is a lot more fun to talk about than a budget that makes genital warts seem popular.
The glee with which the Australian political and media establishment is getting its war on is made all the more horrific when considered next to the maelstrom that is being unleashed in this new Iraq crusade.
According to Barack Obama, the new US mission in Iraq aims to "degrade and destroy" the Islamic State, or ISIS, an organisation UK prime minister and ally David Cameron described as "pure evil".
There is no denying that the Islamic State is a grotesque and reactionary organisation. But it did not fall from the sky. The Islamic State is the child of the 2003 Iraq war. It is a barbaric consequence of an even more barbaric invasion and occupation that destroyed an entire society and killed more than a million people.
Al Qaeda first entered Iraq through the haze of white phosphorous that destroyed Fallujah, through the guns of US soldiers trained on small children, through the savage torture cells of Abu Ghraib, where a generation of young Iraqis learned the true content of Western "civilisation".
The idea that US bombs can now help "save" Iraq from ISIS is imperial arrogance of the most obscene kind. More than that, the notion that the US has the slightest interest in helping the Iraqi people can be entertained only through wilful ignorance of the history of US intervention in Iraq over the last two decades.
The 1991 Gulf War, launched by George Bush Senior, was justified with media horror stories about Iraqi soldiers ripping Kuwaiti babies from hospital incubators. This story, which turned out to be totally fabricated, had nothing to do with the real reasons for the war, which was about establishing a "new world order" under US domination following the collapse of the USSR.
The 2003 invasion was touted as being variously about weapons of mass destruction or part of the post-9/11 war on terror. Again, utterly transparent lies. George W's invasion of Iraq was really designed as the first step in a new wave of wars that would bring "regime change" not just in Iraq, but in Syria, Iran, North Korea and beyond.
But as war gave way to occupation, and occupation bred a ferocious resistance movement, US plans for reshaping the world in its interests unravelled.
Today, Obama's Iraq policy is not about some grand new plan for US domination, but is a desperate rearguard effort to salvage what remains of US power and influence in the Middle East.
The US is in no position to launch a new invasion – thus Obama's constant insistence that there will be "no boots on the ground". But a look at the coalition that Obama is constructing, and the forces on the ground being backed by US air strikes, gives the lie to any argument that the US is re-engaging in Iraq to oppose sectarianism or Islamist extremism.
The beheadings of US and British journalists by ISIS were terrible crimes. But the Islamic State does not have a monopoly on such practices. The public execution of people accused of petty crimes and on the basis of confessions extracted through torture is common practice in Saudi Arabia – a key US ally in the fight against ISIS.
In the space of two weeks in August, 22 people were executed by the Saudi state. Eight of them were beheaded. According to Amnesty, decapitated bodies are often left lying on the ground in public squares as a "deterrent". In Iraq, the Shia militias fighting ISIS with the backing of US air strikes have been guilty of atrocities equally as barbaric as those of ISIS.
Pictures of the charred and mutilated bodies of Sunnis captured by Shia militias have circulated on the internet, along with videos showing Sunni prisoners being beheaded. But when the victims are Iraqi rather than US, and the perpetrators are shiny new allies rather than the latest official embodiment of evil, the media pack is less interested.
Homes in Sunni villages from which ISIS has been driven have been torched and daubed with sectarian slogans. Abu Abdullah, a commander of the Shia Kataib Hizbollah militia in Amerli, was quoted in the Japan Times as saying, "There is no way back for them. We will raze their homes to the ground."
None of this is of the slightest concern to the strategists of the US empire. It is true that there is a debate raging in the US establishment about the advisability of this new war, but the dispute is only about how to protect and project US power.
For example, George Friedman, director of US think tank Stratfor, argues that the US should not be directly involved in the war, but should stand back and watch the major regional powers – Saudi Arabia, Iran and Turkey – battle among themselves. He writes: "The American interest is not stability but the existence of a dynamic balance of power in which all players are effectively paralysed so that no one who would threaten the United States emerges … The United States must turn this from a balance of power between Syria and Iraq to a balance of power among this trio of regional powers … It is impossible to forecast how the game is played out. What is important is that the game begins."
This "great game" is the real subject of debate in the US ruling class. Hysteria about Islamist extremists, evil ideologies and beheadings is nothing but crude war propaganda, cynically fed to the population through pliant media falling over themselves to yelp the loudest for war and more.
Posted by John, September 22nd, 2014 - under George Brandis, Islamic State.
Comments: 2
You have to admire the Abbott Government's chutzpah.
Islamic State released a statement calling on believers to kill, among others, Australians. On the 7.30 Report Attorney-General George Brandis explained that they hate us for our democracy, our freedoms, our respect for women.
The nationalities Islamic State named were Americans or Europeans – especially the accursed French – or Australians or Canadians.
Why is that Senator Brandis? Could it be perhaps because these nations are the ones re-invading Iraq?
Maybe they hate us Senator Brandis because the last time we invaded, in 2003, about 1.5 million Iraqis died as a result? The number continues to rise. Maybe they hate us because the puppet regime we imposed on them was a sectarian Shia dictatorship over Sunnis? Maybe they hate us because we are invading them again. And killing women and children. Again.
And maybe, just maybe, they hate us because when Israel slaughtered 2000 Palestinians, mostly women and children, last month, the Australian government cheered 'our' mass murderers on. Maybe they hate us because we support the West's attack dog in the Middle East and the genocide of Palestinians it is carrying out and has been carrying out since before 1948?
Maybe just maybe they hate us because every time they rise up against hated Western backed dictators and fight for freedom, we manoeuvre to support the next strong man who will protect our interests, not theirs?
Moir captures it:
Posted by John, September 21st, 2014 - under Abbott government, Iraq, Islam, Islamic State, Islamophobia, Muslims, Racism, War.
Comments: 4
Well that didn't take long did it? On Friday a week ago ASIO raised the terror threat level but had no specific intelligence. On Sunday Abbott announced we were going to deploy 600 troops to the Middle East to fight the 'death cult' Islamic State. Then, surprise surprise, on Thursday 870 police raided homes in Sydney and Brisbane, detained 15 people, charged one with conspiracy to commit a terrorist offence and what do you know? Since Friday reports of people abusing Muslims in the street have increased. Not one police officer to protect them, let alone 870.
By the way, the one serious charge is based on a phone call from an Australian IS leader in Syria. If that is all there won't be a conviction. The material to date is on an evidentiary par with weapons of mass destruction.
Three of those detained were or are (we don't know) held incommunicado under terror laws that allow for detention without charge for up to 2 weeks. In other countries they call these people the disappeared.
Now the government has announced major changes to arrest laws to enable police to arrest and detain people without charge on suspicion of planning to commit a terrorist offence. According to 9 News the law changes will give ASIO a licence to kill suspects if their life or others is 'threatened'.
I think this may be a misreading. The law gives criminal and civil immunity to ASIO and police in terrorism cases except for murder, assault or sexual assault. However where there is a threat to their life or that of others the immunity applies. My guess is there will be a lot of self-defence cases arising.
The changes to the law will also give ASIO immunity from prosecution for torture, nothwithstanding the Attorney-General's denials. [Under pressure from David Leyonhjelm, the Liberal Democratic Party Senator, Brandis has now said there will be amendments to clarify that ASIO is not allowed to torture suspects. Let me add that this could mean they will continue to outsource torture to the Americans or the Egyptians or other rotten regimes.]
Don't forget this is the government that is wanting to make it an offence to disclose intelligence operations. Journalists could be jailed for reporting whistle-blower material.
Disclosing intelligence operations eh? I wonder if whoever tipped off the many journalists about the 870 police raiding homes in Sydney and Brisbane will be prosecuted now or in the future?
What about if this law goes through? Will Ministers, advisers, government officials, ASIO and police be prosecuted for leaking information about 'terrorist' raids, and will newspaper owners and their editors be prosecuted for receiving it and acting on it?
To ask the questions is to answer them. One law for Team Australia, one law for the rest of us.
Abbot and co know exactly what they are doing. They are targeting Muslims. Don't believe me? Here's a sample of anti-Muslim sentiment in Australia right now.
The Sunshine Coast Daily reported on an anti-Mosque rally which clashed with supporters of the Mosque. The video in that report is revealing and revolting. Click on it and hold your nose against the racist stink.
Here is one photo from the racist rebellion.
On the Gold Coast recently the council refused to approve the building of a Mosque. Hundreds turned up to show their opposition to the Mosque at the Council meeting.
Here is the handiwork some Australian(s) egged on by Abbott did.
There is more. Here are some front pages from the yellow press of both Murdoch and Fairfax.
And this from mamamia.
So frightened are some in Australia's Muslim community that a Facebook group dedicated to support for victims of hate crimes against Muslims was set up this week. Group members use the page to report instances of abuse and swap tips on how to stay safe. Posts like these feature on the page.
The posts show a pattern of abuse directed at Muslims for being Muslim.
The Courier-Mail in Queensland revealed on Sunday that 'despite pleas for calm from the Queensland Premier and senior police, Muslims – particularly women – have been targeted in a series of hate attacks.'
A [Muslim] woman said she was terrified after she was spat on and called a terrorist at a Murwillumbah service station this week.
Tiger Airlines did its bit for Team Australia by removing a man doodling the word terrorism on his notepad from a flight.
So too did Customs. They did a 'routine' search of an Imam's baggage a few days ago. Routine? It took over two hours and he missed his flight on the way to Mecca for the hajj with a group of pilgrims.
There is more. As Ben Hillier pointed out in Red Flag:
Mareeba mosque in Queensland had the word "Evil" graffitied over it. The Logan and Holland Park mosques were also targeted. Direct threats were issued against the grand mufti of Australia, Lakemba Mosque and Auburn Mosque, allegedly by anonymous members of the Australian Defence League. "Muslims", their message read, "Australia will fight you 'terror for terror' 'blood for blood' 'bomb for bomb'."

Government Senator Cory Bernardi has called again for the burka to be banned and Palmer United Party Senator Jacqui Lambie has agreed with him. She has gone further, arguing that those who want sharia law should get out of Australia. When asked she couldn't explain what sharia law was. Abbott has cried havoc and let slip the dogs of racism.
The Government is going to war against Islamic State and calling it a death cult for its barbaric acts, unlike Western capitalism and its long history of barbarism, including here in Australia against Aborigines. There will be no distinctions drawn between Islamic State and Muslims. At best there will be mealy mouthed apologies after the event, like those offered by Queensland Premier Campbell Newman in response to the anti-Mosque protests on the Sunshine Coast. Apparently we are all in this together, but only if Muslims join Team Australia. The point is that for racists and many nationalists being Muslim automatically excludes Muslims from the white, Anglo-Saxon Christian Team Australia.
This government is pushing racism and Islamophobia to win support for its war in Iraq and to detract attention from its rotten austerity Budget. A war footing and jingoism are the breeding grounds for the ruling class to push fear of the other. The Labor Party is rushing to support Abbott.
As the war deteriorates and the economy worsens the anti-Muslim dog whistles from our politicians will become claxon horns.
Opposing the war and fighting against the Budget are linked, and must join up with the fight to defend our Muslim bothers and sisters.
Posted by John, September 18th, 2014 - under Abbott government, Asylum seekers, Islamophobia, Terrorism, War.
Comments: 2
First it was an increased terror alert. Two days later it was the deployment of troops to help the fight against Islamic State. On Thursday, just four days later, it was 800 police raiding homes in Sydney and 70 in Brisbane to stop 'planned terrorist' activities.
End result? One person has been charged with conspiracy to commit a terrorist act. The evidence? A phone call from one of the Islamic State barbarians urging Australian followers to kidnap people off the streets in Sydney and Brisbane and behead them, wrapped in an IS flag. A few others may be charged on Friday. I understand two have been charged with minor offences and are on bail.
There is not enough evidence to convict a dead dog as yet, but the raids aren't about protecting us. They are about creating hysteria. We are re-entering the period of permanent war. Fear is king. The Abbott government is terrorising us. Our rulers are importing the terror they export to Muslim and other countries.
The 'enemy', the 'other' is supposedly both external and within. It is a common ploy of our rulers. Over white Australia's history the threat has been variously the Chinese, the yellow peril, the Russians, the Germans, the Japanese, the Reds, immigrants, refugees and of course the founding 'enemy', Aborigines and Torres Strait Islanders. It unites 'us' all, boss and worker, against the other and helps the bosses set their agenda. That agenda includes the West's terrorism worldwide to subdue the peoples of rebellious countries and impose the market for the benefit of Western capitalism.
Muslims in Australia today are, for the capitalist class and its politicians, the perfect other, the perfect target, the manufactured representation of both home-grown and overseas terror and terrorism.
They are the decoy for neoliberalism and the West's permanent global war.
It is no accident that on the same day this happens Drear Admiral Scott Morrison releases details of the 'success' of turning back the refugee boats. The government is playing to what it perceives are its strengths – war, national security and asylum seekers.
It is also no accident that as Australia begins to catch up with the rest of the Western world and enter permanent economic crisis the government is giving us permanent war.
Some Australians will respond with fear. Some, bless their hearts, will see through this 3 card trick.
This is despite the Labor Party 'Opposition' walking lockstep with the Government on the war and anti-terrorism measures. They are disenfranchising the majority of Australians who oppose going back into Iraq.
The hysteria around terror might reduce opposition to the war, at least in the short term. It might distract from the anger people have about the rotten Budget, at least in the short term. But the Budget attacks are so great and everywhere there will be reminders of what the bastards want to do, when we visit the doctor, go to public hospitals, attend University, help look after our disabled relatives, that the anger won't disappear in a sea of nationalist war and anti-terrorist fear mongering.
This war may well be like the previous invasions of Iraq and Afghanistan – disguised defeats for the West. Many people intuitively know that, which is why they oppose this latest lunacy in Iraq.
As well as stoking fear, the arranged spectacle of 'terrorist' arrests is an attempt to provoke Islamophobia. There is an audience for this and ordinary Muslims are likely to be attacked in the streets for the crime of being Muslim.
The ALP's grovelling response to going to war in Iraq and the 'terrorism' arrests shows that Labor is bankrupt. We need to build a movement and ultimately a political party that not only gives voice to the voiceless but argues for a new society, a democratic one which ends war, racism and poverty and produces goods and services to satisfy human need.
Let's start by building an anti-war and anti-Budget movement to stop the war on Muslims and the war on the poor.
Posted by John, September 17th, 2014 - under Scotland.
Comments: 1
With Scotland's referendum on independence coming up this week, the threats from England's rulers are becoming more frantic, writes Independent columnist Mark Steel.

British Prime Minister David Cameron (Moritz Hager)
THAT WAS a strange tactic of the political leaders of England–to try and convince Scotland not to vote for independence from England by sending up all the English people they dislike the most, who have made them consider independence in the first place. If that doesn't work, maybe David Cameron will dig up Margaret Thatcher and send her to the middle of Glasgow as well.
Then they all made speeches along the lines of "I appreciate you think English politicians patronize you, which is why we've come to tell you to think about this tricky matter properly, because it's more complicated than you hunky but dim Scots are used to."
Cameron went further, adding, "Come along Scotland, if you vote for independence, I'll get upset, and you working-class Glaswegians wouldn't want to make an Etonian Conservative prime minister cry, would you?"
With such an understanding, his next move will be to tour the country dressed as Edward II, and unveil billboards that say, "Tearing Britain in half / All of a sudden / Is less of a laugh / Than we had at Culloden." Cameron does at least have experience of Scotland, as his mother-in-law owns 19,000 acres of land on the Isle of Jura, on which he visits to stalk deer. So there's plenty of common experiences for him to chat about with the unemployed of Motherwell.
Then former Tory Prime Minister John Major went on the radio to warn about the perils of independence. At this point, you had to suspect the "Yes" campaign must have influence in the BBC. Because getting Major, who lost every single seat when he last campaigned in Scotland, to order Scotland to vote "No" is genius.
At one point, Major said of the Yes campaign's attitude to the currency issue: "I have never known such incompetence." And that's a fair point, because when Major was in charge of currency, it collapsed so much that he put up interest rates to 5,000 percent, while spending all day on the television making statements such as, "I don't know what to do," while clutching a blanket and wetting himself, before being kicked out of the Exchange Rate Mechanism–and you can't BUY that level of competence.
– – – – – – – – – – – – – – – –
THERE DOES, however, seem to be a darker side to the sudden intense efforts to persuade Scotland to vote no. Because along with the begging comes the threats. Every day, party leaders inform us about businesses that will move to England–that Royal Bank of Scotland (RBS) and most of the economy will leave, and BP will suck their oilfields to Norwich, and Edinburgh will move to Berkshire, and Dundee will be towed to a swamp in Kent that's overrun with crocodiles, and Ben Nevis will be taken over by North Korea, and there'll be nothing anyone can do because Scotland won't be allowed in NATO and, in fact, won't even be covered by International Regulations on Cheetahs, so they'll sprint across Cumbernauld eating the lot of you, and see if WE care.
It turned out that even the threat from the Royal Bank of Scotland was that they'd move their official address to England, with no one losing their jobs. So the argument of the No campaign is: "You know that bank that led the world in buying useless debts across America, playing a major part in destroying the global economy and awarding its executives with millions of pounds each as a prize? Well, if you vote for independence, they might change their P.O. Box address. THEN let's see how you cope."
Tomorrow, they'll announce, "Now we've heard that Crazy wee Jimmy, the Butter Knife from Fife, who threatens to take out your internal organs with a butter knife unless you give him a fiver, has said if there's a Yes vote, he's relocating to Cambridge, causing even more economic chaos for an independent Scotland."
The next time it's claimed that RBS is threatening to leave, the best response for Scotland First Minister Alex Salmond would be to say that they're not going to be allowed to stay even if they want to, as they're nothing but a bloody nuisance, and from now on, Scotland's money will be looked after by a couple of retired ladies who run a charity shop in Morningside, who have no desire to bundle up any debt packages of sub-prime mortgages at all.
The No campaign is also quoting executives of the John Lewis department stores, who say they'll increase prices if there's a Yes vote. But these aren't arguments, they're threats. They might as well say, "And the CEO of Walkers Crisps has said that if Scotland goes independent, he'll kick everyone right up the crutch."
The biggest threat is over the currency. The government says it won't let Scotland use the pound, and then spends all day asking, "What you going to do without a pound?"
And this is where the Yes campaign could be much more forceful. Instead of talking about currency unions, it should say that if Scotland isn't allowed to use the pound, everything it buys from England will be paid for with pennies. So if Scotland buys a fleet of airplanes from British Aerospace, they'll go to the office with a jar the size of a dumpster and pour 50 million quid worth of pennies over the floor, saying, "We're not allowed a pound, pal, so ye'll have to pick them up yeself, big man."
Because what we've learned from this referendum is that it's fun to watch the establishment when they panic.
First published in the Independent and re-posted in Socialist Worker US.
Posted by John, September 17th, 2014 - under Health, Health care, Iraq, War.
Comments: none
Posted by John, September 16th, 2014 - under Climate change, Socialism, Socialism from below.
Comments: none
World leaders are coming to New York City this week for another United Nations-sponsored summit on climate change. This time, though, they'll be greeted by the largest climate justice march in history. What are we fighting for in New York City? Chris Williams, author of Ecology and Socialism: Solutions to Capitalist Ecological Crisis, looks at what our side needs to do to successfully confront the challenges ahead in Socialist Worker US.
VIKING I landed on Mars, the Ramones released their first album, the Soweto Uprising began in South Africa, North and South Vietnam reunified to become the Socialist Republic of Vietnam, and Gerald Ford was in the White House.
1976: The same year scientists discovered that refrigerant chemicals, chlorofluorocarbons, better known as CFCs, were responsible for creating a hole in the ozone layer was also the last time when global average temperatures were below the 20th century norm.
Hence, the earth has now experienced 353 consecutive months–or an astonishing 38 years in a row– of above average temperatures. In terms of hot and cold spells, snowfall patterns and the number of extremely hot or cold days, there are millions of people alive today who have no direct experience of the kind of planet their parents grew up on.
For communities of small farmers and pastoralists–who number in the hundreds of millions around the world–dependent on seasonal bio-indicators for information on rainfall, planting, harvesting and herd movements, this becomes a life-and-death question. Knowledge from elders about the annual rhythms of springtime flowering; flocks of migratory birds; the emergence of butterflies, pests and other pollinating insects; trees and plants blooming; and when to expect rain is becoming dangerously unreliable, and even irrelevant.
Examining the situation in the U.S., one only has to look at the photography of drought-afflicted California, where 50 percent of the fruit, nuts and vegetables for the whole United States are grown, to imagine what is going to happen to food production and the price of agricultural produce in a warming world.
The loss of water in the state–240 gigatons of surface and groundwater, an amount equivalent to almost 10 cm (4 inches) of water spread over the entire West–is so great that the mountains are measurably rising, as the weight on them diminishes.
– – – – – – – – – – – – – – – –
FOR EXACTLY half of those 38 years since 1976, world leaders have been discussing at international climate talks what to do about the increase in global temperatures resulting from the burning of fossil fuels and land-use changes.
Such societal activities have increased the levels of carbon dioxide in the atmosphere, the key global warming gas, from a pre-industrial level of 280 parts per million (ppm) to 400 ppm–having some time ago exceeded 350 ppm, the danger level calculated by scientists. Yet even as the science has become more definitive, and the direct impacts on our landscapes and climate ever more obvious, the political landscape has deteriorated faster than a California lake.
Indeed, world leaders and negotiators for the UN inter-governmental process on climate change, begun 19 years ago, have at this point essentially given up. The coming climate summit in Paris in December 2015–billed as the meeting that would finally adopt an international plan for replacing the Kyoto Protocol of 1997 to deal with carbon dioxide emissions and deforestation–is already acknowledged by participants as completely inadequate and having "no chance," more than a year before it is set to take place.
As a new report from the Massachusetts Institute of Technology, titled "Expectations for a New Climate Agreement," says:
We doubt there will be negotiation specifically on quantitative national emissions reduction targets, as under the Berlin Mandate [agreed to in 1995]. Furthermore, any legal provisions included in an agreement will not be of a form requiring ratification by national legislative bodies. Involvement by the United States is crucial to any future regime, and the U.S. Senate is an impassable barrier on the horizon of COP-21 negotiations.
So more than a year ahead of negotiations that are supposed to map out and finalize a global deal on significant emissions reductions–which in any case were not due to come into effect until five years later–we already know the outcome: there will be no specific limits on emissions or targets for setting them; nothing will be enforceable and whatever happens will be merely voluntary; and the U.S., the biggest polluter in history, will be the major obstacle.
The "impassable barrier" of the U.S. Senate, more than half of whom are Democrats at the moment, means that 100 people–the majority of them millionaires, 80 of them male, 93 of them white, 85 identifying as Christian, with an average age of 62 and an average of more than 10 years in the same job–are holding hostage 7 billion people, millions of species and the climate stability of the entire planet.
Is it any wonder that a recent Princeton study, titled "Testing Theories of American Politics," affirmed what many American's already know: The United States of America is not a democracy in any meaningful sense. The report notes:
In the United States, our findings indicate, the majority does not rule–at least not in the causal sense of actually determining policy outcomes. When a majority of citizens disagrees with economic elites and/or with organized interests, they generally lose. Moreover, because of the strong status quo bias built into the U.S. political system, even when fairly large majorities of Americans favor policy change, they generally do not get it.
The study also reports: "The net alignments of the most influential, business oriented groups are negatively related to the average citizen's wishes." Which means that not only do ordinary people in the United States have virtually no influence on government policy, despite formal national elections which might suggest otherwise, but the policies that are enacted under the influence of a small economic and political elite are contrary to the expressed desires of the majority of the population.
Many examples related to issues like taxing the rich, public health care and education could be cited. On the environmental front, several polls show majorities in favor of stronger U.S. government action on climate change. And contrary to a popular myth, the polls show consistently higher support from people of color, due to the fact that they are most directly, immediately and worst affected by environmental problems.
– – – – – – – – – – – – – – – –
IN SHORT, more and more people around the world are recognizing the need for "system change."
They want to prevent not only climate change, but address a host of social issues generated by the continued operation of capitalism that are inextricably intertwined with our ecological problems: growing inequality, ossified class structures with rigid or only downward mobility, structural and institutional racism, massive and ongoing gender disparities, giant corporate conglomerations immune to democratic oversight or governance, restrictive and debt-laden higher education, the progressive erosion of civil liberties, state-directed warfare with no regard for the casualties. Now, we can add to that list the almost complete lack of real democracy in a country that is supposedly defined by that characteristic.
On a global scale, as I have written elsewhere, states organized competitively against one another are subject to two dynamics, which combine to prevent an internationally coordinated effort to reverse climate change and preclude any long-term ecological resolution within the confines of capitalist economics:
The need for constant growth is endemic to capitalism and therefore makes it impossible to find a permanent solution to environmental degradation within a competitive, profit-driven system. Alongside that is a second fatal–and under-appreciated–anti-ecological contradiction of capitalism: the international competition between nation states over resources and political hegemony.
In a rather surprising inclusion to the Princeton report on democracy in the U.S., the authors make note of essentially the same analysis:
Marxist and neo-Marxist theories of the capitalist state hold that economic classes–and particularly the bourgeoisie, the owners of the means of production–dominate policy making and cause the state to serve their material interests. As the Communist Manifesto put it, "The bourgeoisie has…conquered for itself, in the modern representative State, exclusive political sway. The executive of the modern State is but a committee for managing the common affairs of the whole bourgeoisie.
Hence, in order to solve the interlocked combination of social and ecological problems generated by an economic and political system driven solely by profit, one which serves the interests of only a tiny minority of the world's population, we need to have a vision for an entirely different system of organizing production.
In order to achieve that vision, we will need to build a movement that harnesses the collective power of the 99 Percent of humanity who have a stake in overturning capitalism and replacing it with a more democratic, inclusive, cooperative and needs-based socio-ecological system for producing the things we need to stay alive.
– – – – – – – – – – – – – – – –
SUCH A system requires rational and coordinated long-term planning, another feature inimical to the anarchy dictated by "market forces." Thus, for example, the response to the drought in California is not to switch water supplies over to crops with less intensive water requirements, but to ones that offer higher economic value.
Deeper wells are required to reach groundwater, increasing unsustainable pumping rates by using larger and larger diesel-fueled pumps–so the system is simultaneously exacerbating local air pollution, saline intrusion and land subsidence. Because water flows underground, each farmer or corporation–many of which are using completely outdated water-saving technologies, based on 7,000-year-old technology, if they are using such methods at all–is in direct competition with surrounding farms to dig deeper wells, acquire larger pumps, and pump out groundwater before their neighbors.
Nonsensically, though 80 percent of water in California is used for agricultural purposes, the onus has been on individual consumers to reduce their water use, not Big Ag–even though this makes no sense in terms of achieving radical reductions in water use. Indeed, the 3.9 million people of Los Angeles already use less water than other U.S. cities and less per capita than they did in 1980.
Such is the irrational, unplanned and frankly absurd nature of capitalism that the thriving new business in California is companies that paint lawns and grass green–using, of all things, water-based paints.
The process of financial accumulation for short-term profit at the expense of both people and the environment, was described in the fugitive slave narrative of Charles Bell, as he traveled north, in terms that are startlingly contemporary:
They are attempting to perform impossibilities–to draw the means of supporting a life of idleness, luxury and splendor from a once generous, but long since worn-out and exhausted soil–a soil which, carefully used, would at this day have richly repaid the toils of a husbandman, by noble abundance of all the comforts of life; but which, tortured into barrenness by the double curse of slavery and tobacco, stands as…a monument to the poverty and punishment which Providence has decreed as the reward of idleness and tyranny.
By contrast, a rational society based on cooperative, bottom-up democracy would use a combination of science, the best available technology, and local knowledge of weather patterns, soil, agriculture and food needs to decide where and what to plant and farm in any given location.
Those decisions would rest on a comprehensive analysis of the type of crop, based on agricultural, ecological, climatic, cultural and social factors, and how to embed those crops among other crops, animals and humans to create a sustainable and functional, integrated ecosystem–one that can, in combination and consultation with other agricultural regions, provide nutritious food and a balanced diet for a wider population.
Not only do ecosocialists see the problem of climate change as related to an entire social and economic system that needs to be confronted–because we are talking about requisitioning $10 trillion in wealth held by fossil fuel corporations alone–but our vision for that alternative also has to be holistic. It must make the connections between different struggles and unite the forces capable of making such a vision a reality.
– – – – – – – – – – – – – – – –
HOW CAN we organize ourselves to carry out a social and ecological revolution on a planetary scale? As we approach the midpoint of the second decade of the 21st century, knowing the urgency of our project, its all-encompassing nature, the legacy of past defeats and disorganization among our own ranks, such a task appears daunting.
Nevertheless, clearly, the vast majority of us have an interest in doing so. Therefore, the question becomes one of motivation, potential and organization. Is the need to organize such a movement as powerful as the need that led to the rise of the abolitionists and the struggle against slavery? Indeed, that titanic struggle–which brought about a revolutionary change in production methods and turned millions of African-Americans from slaves into free men and women–offers lessons in who can effect profound social change.
It was the slaves themselves, responsible for cutting the cane, drying the tobacco and farming the cotton, who were the decisive social force in turning the Civil War between ruling-class factions into a revolutionary one that undermined production in the South and led to the non-compensated multibillion-dollar dispossession of the Southern slaveocracy.
While social movements throughout history have been and are powerful social actors, it is the collective power of people in factories, fields and offices to stop production of the things that the capitalists need to sell that is the crucial motive force and lever, capable of turning social revolt into social revolution.
While this force may appear dormant, perhaps, to some–even extinguished within the U.S.–working people, and even more so working people of color and the part of the workforce who are women, are disproportionately affected by ecological issues and so not only have a direct interest in fighting for ecological sanity, but also the power to effectively do so.
Which is why working-class struggles have often featured an environmental component, around questions of housing, air and water pollution, transportation, sanitation, town planning, environmental and workplace toxins. Those struggles are often mis-categorized as purely social, and omitted from histories of environmental reforms and how they were won. They are, nevertheless, a necessary and essential component of success.
Union members in the U.S. are beginning to recognize the importance of fighting for improved sanitation infrastructure, public transit and a new energy grid, free of fossil fuels–even if this is sometimes in contrast to the attitudes of their union leaders. Such struggles will only succeed with a rebalancing of social power in working people's favor, not simply as a transition to different forms of energy.
Huey P. Newton, a leader of the Black Panther Party of the 1960s, firmly believed–following Karl Marx–that environmental problems were an outgrowth of capitalist economics and, as such, had to be taken up as a central part of the Panthers' program. Newton argued that revolutionaries needed to see "pollution for what it is–war against nature, war against people, against the race itself, against the unborn."
Moving toward a holistic understanding of nature and humanity's place on the planet, Newton stressed that the underlying philosophy of the Black Panther Party must reject the very idea of nation states and be "founded on the basic concept of the unity of nature underlying and transcending all arbitrary national and geographical divisions."
Achieving such a vision of a borderless world, where humanity and nature are intimately connected and co-evolutionary, will be a giant task. But if we examine our history, it is not one without precedent. It will require building organizational strength, as the coalition System Change Not Climate Change is attempting to do, as well as international solidarity among the 99 Percent–among the people of the factories, forests and fields. We also need political clarity about the systemic nature of the fight, as will be debated and discussed at the Climate Convergence in New York City on September 19-20, with hundreds of activists from across the globe.
There is no time like the present to be part of that fight.
Posted by John, September 15th, 2014 - under Razor Sharp, Sharon Firebrace.
Comments: none
This is the link to my 30 minute interview with Sharon Firebrace on Razor Sharp, talking about, among other things, the new old war in Iraq, the death cult that is Western imperialism, the war on the poor, Abbott in Arnhem Land, a treaty, and the need to fight back against the Budget war on the poor and the war in Iraq.
Posted by John, September 14th, 2014 - under Iraq, Islamic State, Syria, War.
Comments: 7
Whom the gods would destroy, they first make mad.
Prometheus in Henry Wadsworth Longfellow's poem "The Masque of Pandora".
The latest cabal of war mongers – the US, the UK and Australia plus the other usual white western suspects and a few Quisling Arab states – has rushed back into Iraq to defeat the death cult, Islamic State.  I have no love for IS, but they didn't kill 2 million civilians in Indo-China; they didn't kill more than one million civilians in Iraq; they didn't kill tens of thousands of innocents in Afghanistan. They aren't drone bombing women and children in Afghanistan, Pakistan, Yemen, Somalia and elsewhere.
The real death cult is western imperialism.  Australia is worshiping at the altar with the high priest, the US.
Like all the liars of war, this time it is humanitarian. Just like Vietnam. Just Like Iraq in 1990. Just like Afghanistan in 2002. Just like Iraq in 2003. Of course Vietnam was built on a lie, the lie of the Gulf of Tonkin . Iraq 2003 was built on the lie of weapons of mass destruction. And now the latest war in Iraq is built on fear of Muslims at home and abroad and the lie of humanitarian intervention.
ISIS is a logical consequence of the invasion of Iraq in 2003. Islamic State might be a bastard child of US foreign policy but its parentage is clear.
This next round in the war in Iraq is a war to remove the mistakes of the past war. It won't work because the wars in Iraq are the problem, not the way they are carried out.  All our intervention will do is invigorate those fighting against us and possibly make Australia a target for an attack here. Indeed that may well be Islamic State's intention – to draw us in to their trap.
War and capitalism are a long married couple.  As US economic power declines and that of China rises the world will become more unstable. The US will resort more and more to force to keep China in second place, a second place far behind the US.  It cannot work in the  long term because the forces unleashed in China are the very forces that built US capitalism and imperialism – the drive for profit protected and expanded by a strong state.
So why the return to Iraq? Because of its sectarianism and abuse of Sunnis, the US puppet regime in Iraq sowed the seeds for ISIS. Islamic State was in fact supported by the US in Syria for a while. The arms they use are American.
Islamic State receives major support from Saudi Arabia who, perhaps not coincidentally, is not part of the white man's war brigade in Iraq.   (As an aside Saudi Arabia beheaded up to 40 'criminals' last month, including some for sorcery. Unsurprisingly there was not a mention in the mainstream press.  Beheadings are OK when our erstwhile allies do it.
Australia is supporting the US as part of its insurance policy deal with American imperialism. Our ruling class provide cover for an alliance to provide protection in the future against Chinese imperialism and to enable Australian power under cover of US power to expand in the region.
Clearly the Australian ruling class has aligned itself closely with the US, and therefore against China.  Pine Gap is for the Americans. The Darwin base and its expansion is for the Americans. We might sell our resources to China but our ruling class's long term interests they believe lie with the US.  Hence the insurance policy with the US. What are a few dead Australians sacrificed on the altar of the US alliance compared to being on the hopefully winning side and for ever in America's gratitude?
One problem. The US isn't even the winning side. The defeats that dare not speak their name – Afghanistan and Iraq – are about to be repeated, in Iraq.
There is an added bonus for the government, they hope. A good war will distract attention away from their war on Australia's poor and workers. There's unlimited money for war but none for the poor.
And if anyone still has illusions in the Labor Party, Bill Shorten's 'all the way with TA' should put the final nail into that coffin.
Australian Prime Minister Tony Abbott said that this war in Iraq would take months. No doubt they'll be home before Christmas.
Have we learned nothing over the last century? Or is this the war to end all wars? This time, no doubt, the Western ruling classes will get it right.  Oh yeah, just like 100 years ago.
Later articles will try to address why the US is doing this, why Labor is in partnership with the Abbott government and how we can resist.
Posted by John, September 12th, 2014 - under Abbott government, Budget, Budget cuts, Terrorism.
Comments: none