Twiggy Forrest and Aboriginal employment
Posted by John, August 18th, 2013 - under Jobs, Twiggy Forrest.
Tags: Aborigines, Aborigines and Torres Strait Islanders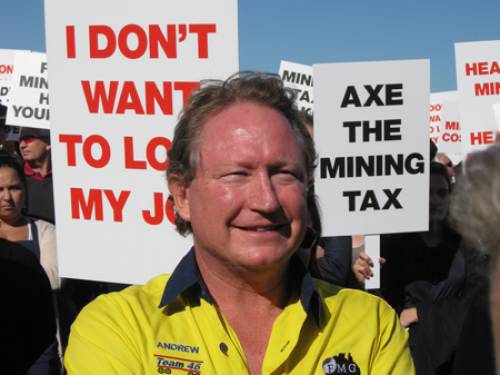 If he wins government, Tony Abbott will appoint Andrew "Twiggy" Forrest to head up a review of indigenous employment programs.
The Liberals will give $45 million to the GenerationOne scheme the WA mining magnate helped found. Abbott has promised to create up to 5000 jobs for unemployed Aborigines. The idea is to get business to commit to employing indigenous Australians.
It is of course a furphy. The interest of mining companies like Forrest's Fortescue Metals Group (FMG) is profit, profit and more profit.
For mining companies this means an ongoing process of dispossession of indigenous Australians either openly or in disguised form. Open dispossession involves stealing their land, something much of the last 225 years in Australia has been about.
The disguised form of dispossession is to pretend to care and give Aboriginal people a few crumbs from the table. This bounty of the rich comes from stolen indigenous land.
Thus Forrest, with Rudd in tow, set up the Aboriginal Employment Covenant in 2008 and later through GenerationOne to implement it to give 50,000 Aboriginal people jobs. With Warren Mundine as CEO and seeking advice from people like Noel Pearson and Marcia Langton, the scheme has in fact found employment for only 12500 indigenous Australians.
Forrest rails against so-called cash handouts. Thus he is in dispute with 'a group of Yindjibarndi traditional owners in the Pilbara over native title and land-use agreements for FMG's pivotal $3.6 billion Solomon mine development.'
He wants to direct the Yindjibarndi Aboriginal Corporation as to how they should spend any compensation received for allowing development on their land. Their land.
Let's take a left field view of FMG to understand where its real interests lie and judge its real commitment or lack of it to Australian society.
FMG hasn't paid income tax in Australia for 18 years and given accumulated losses will celebrate a twenty year anniversary of not making a revenue contribution to Commonwealth coffers in a few years time.
Andrew Forrest is just so right for being given $45 million of workers' money to do nothing about Aboriginal employment.
Land rights and sovereignty and negotiating a treaty with indigenous Australians  – in other words empowerment – would help address the issue of unemployment, rather than putting the head of a non-tax paying entity in charge of a do nothing scheme.
Advertisement
Comments
Write a comment