A world cup for the rich in Brazil
Posted by John, June 15th, 2014 - under World cup.
Tags: Brazil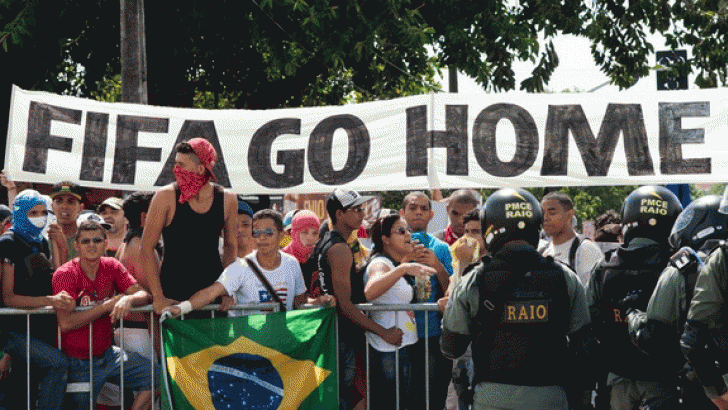 Big sporting events are designed to build government popularity and create a sense of social and national cohesion writes Joel Windle in Red Flag. Brazil's hosting of the World Cup has instead exposed both the country's deep class divisions and the private interests served by those in power.
The massive costs of the event, and the lavishness of the constructions that will be accessible to only a tiny elite, stand in stark contrast with inadequate public spending on health, education and public transport.
Brazil's ruling elite enjoy a cosy relationship with big business. Funds are regularly funnelled to politicians and public officials in return for the awarding of contracts and favourable decisions. One judge was recently at a loss to explain where the money had come from for the purchase of a small island.
World Cup graft
With the awarding of billions of dollars' of construction contracts, the World Cup provided a bonanza for both politicians and building companies. The companies charge inflated rates and share some of the loot with politicians – legally through donations or illegally in unmarked envelopes.
Public spending on the event thus far has exceeded US$11 billion. The stadium built in Brasilia, a city with no major professional soccer team, experienced cost overruns of $600 million. A partial audit showed that at least $275 million of this was in price gouging. Meanwhile, the companies responsible for the construction have donated $37 million to the political parties in charge of contracting and overseeing the work.
While this kind of graft makes painfully obvious how corrupt Brazilian politics is, there are many other connections between the World Cup and private gain that would be cheered as excellent and efficient practice by the World Bank and Wall Street economists.
The Cup provided the government with an excuse to revamp the country's airports just in time to privatise them. Similarly, the stadiums built or revitalised with public funds will be handed over to private entities and run for profit. The Maracanã Stadium in Rio de Janeiro, for example, will be turned over to Brazil's richest man, Ike Batista.
Privatising public space
The World Cup is not merely an excuse to expand the reach of private interests and line politicians' pockets; it also has direct and devastating effects on masses of working and poor Brazilians. The Popular Committee for the World Cup and Olympics calculates that 250,000 people have been evicted from their homes or threatened with eviction in order to make way for works and "revitalisation" of neighbourhoods related to the two sporting events.
The army and military police have been sent in to "pacify" slums close to venues. Dozens of locals have been killed during both the seizure of control and subsequent "occupations". Homeless people also are being moved from areas where tourists will visit. These developments highlight another aspect of the Cup, which is replicated in major cities around the world – the use of major events to transform urban spaces. Sporting events in particular provide cover for governments to alter the balance between social and corporatised city space.
By and large, big events are opportunities so "sanitise" public space, making it conform to the tastes of the middle and upper classes while restricting popular participation through charging for access or through stifling civic codes that ban anything deemed to be "anti-social" (i.e. anything that offends the sensibilities of pious business people).
The government has passed new laws allowing greater freedom for police and the army to repress protests during the event. Protests and strikes during the Cup have been made illegal in some host cities, such as Natal. It is likely that in many of these areas there will not be a return to "normal" after the Cup, but the creation of a "new normal" in which the police and private security rule and kids from the favelas kicking a ball around will be targeted.
Resistance
As an event that most cannot afford to attend and that has already torn people from their homes and given a free hand to police brutality, it is no wonder that hosting the Cup is opposed by around 60 percent of Brazilians.
The anger over government corruption and business cronyism comes within a wider context of social and industrial unrest. Teachers are striking over salaries that are among the world's lowest. Public transport workers in Rio and São Paulo also have been striking, including wildcat strikes when union officials have been bought off by the private consortia that control the train and bus routes.
The World Cup contributes to this wider movement, but also provides a stage for protests and strikes to increase their impact and draw in other sectors of society, placing greater pressure on the government and the bosses.
The Landless Workers' Movement, making demands for decent housing, staged a march on the Stadium where the opening game took place. Thus, rather than bringing hoped-for popularity, the World Cup has provided a catalyst for a crisis in Brazil's ruling economic and political elite, and provided a platform for the expression and coordination of working class opposition.
Advertisement
Comments
Write a comment