Why we need new football heroes
Posted by John, July 1st, 2014 - under Uncategorised.
Tags: FIFA, Football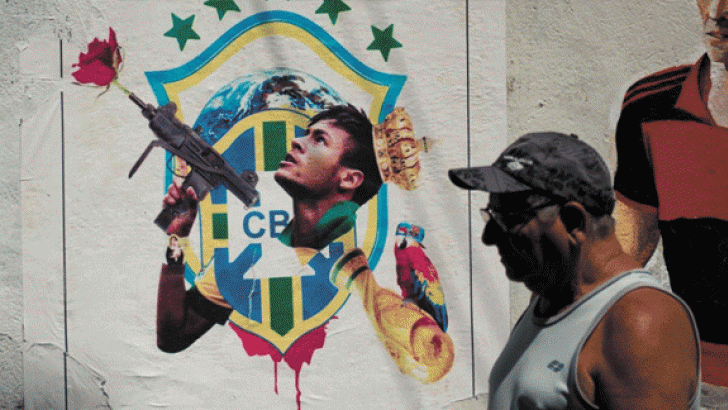 Anti-FIFA graffiti.
An old Latin American fable says that most children learn how to walk with a football at their feet writes Jorge Jorquera in Red Flag. It certainly was the first gift I received, and likewise our kids.
Today there is a growing separation of the professional player from their usual working class roots.
In the 1950s, professional players in the English league typically earned less than £10 a week – a bit less than the average factory worker. Players took other jobs between seasons, especially if they had families to support. When your toilet clogged up, it could well have been fixed by the great Tom Finney from Preston, who worked as a plumber.
In the 1960s, most English players earned less than £100 a week. In 1985, before professional football had been completely commercialised, the average wage in the top English division was still only £24,934 a year, or about two and a half times the average male wage. Bonuses and advertising deals at the time were also comparably modest.
By 2010, the average English Premier League wage was £1.16m and the average take-home pay some £1.76m. Among professional players, a class division emerged.
According to this year's Forbes rich list, 29-year-old Portuguese player Cristiano Ronaldo receives annual wages and bonuses totalling more than $60 million. Last year, Ronaldo earned only slightly less than the highest paid sports player, US golfer Tiger Woods. The gap between working class football and the rich "man's" golf is well and truly closing.
Ronaldo has recently been overtaken as the highest paid footballer in the world by Lionel Messi, whose new Barcelona contract guarantees an annual salary of around $50 million, not including bonuses. Messi makes more per year than the entire professional league in Chile.
A small but symbolic number of football superstars have joined the ranks of the capitalist class, making much of their money from what could hardly be called "work". Last year, David Beckham made $37 million and came third on the Forbes list of retired sports people. These players often have multiple investments and extensive financial portfolios.
This can't be said for the average professional player, who remains more likely to end up living a pretty ordinary life, especially after retiring. Most professional players do not play for the handful of billion dollar football enterprises such as Manchester United and City, Real Madrid and Barcelona.
Last year Barcelona turned an operating profit of US$154 million. Manchester City spends more than US$300 million a year on players' salaries. At one point, Carlos Tevez was reportedly getting half a million dollars a week from City. But while Wayne Rooney of Manchester United pockets more than $18 million a year, many Australian players hover not far above the minimum wage set for the A League – $38,000 for under 21s and $46,000 for over 21s.
There are some wealthy football players who are sympathetic to their roots and sometimes express themselves politically. Some, such as Maradona, occasionally express anti-capitalist views. Before departing for the World Cup, Jorge Valdivia, "the magician" of the Chilean team, tweeted a picture of himself and two other players showing their support for public education and the Chilean student movement.
The model professional player, however, is not supposed to be the sort of thinker and political activist that Socrates of the legendary 1980s Brazilian squad was. Kids are supposed to aspire to play professional football so they can own a Lamborghini and have cologne named after them.
One of the great heroes of Chilean football was Carlos Caszely, Colo Colo's most prolific goal scorer. His mother was tortured by the Pinochet dictatorship. Caszely will be remembered as the player who refused to shake Pinochet's hand when the national team was officially farewelled on the eve of the 1974 World Cup.
We need new football heroes like Caszely – players who defy FIFA's policing, refuse to become adornments for bourgeois society and side with the working class communities who gave them their start.
If only one of Brazil's players could stand up now and utter the words Socrates once did: "Give my goals to a better country."
Advertisement
Comments
Write a comment