Australia in the Great War: Myths and ambitions
Posted by John, July 29th, 2014 - under War, World War I.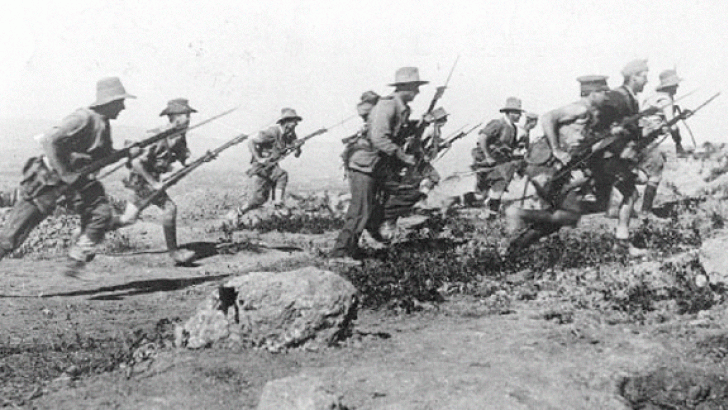 In commemorating the Great War, which broke out 100 years ago next month, we recall one of history's greatest crimes writes Tom O'Lincoln in Red Flag. Sixteen million dead and 20 million wounded. Such a grubby mix of murder and profit-hunger confronts us. Dividends rise and workers fall.
Even conservative NSW governor Philipp Game declared at the opening of a war memorial in 1930: "None of us can say that the world is better for the Great War."
So why did Tony Abbott in June travel as far as France to celebrate it? The most obvious reason came a few years back from the cynical lips of former defence minister Kim Beazley: "Politicians need the Anzac myth or they would never be able to convince soldiers to go to war."
The rulers of wartime Australia had another fear, articulated by archbishop Mannix: "Within the past 12 months, [the] well paid had their salaries increased, while poor working men had been turned out idle in hundreds. What wonder if idle starving men find themselves driven to socialism."
They need the Kokoda myth, too, for those who don't buy Anzac. They can even find use for a relic like Coral Sea week. But Anzac gets massive official support. Last time I had a look at it, it seemed like every marching band in the state was marching. But what did a war in Europe have to do with Australia?
A global order?
When one Western government after another declared its participation in World War One, Australia was part of the rush. Unlike in Britain, there was relatively little opposition to conscription at first. This passivity seems to show Canberra's total subservience to Britain. If so it would be a damning accusation, and neither is it totally false. What passes for Australian foreign affairs thinkers are under some pressure to disprove it. The Australian's Greg Sheridan has tried.
Sheridan actually thinks the war was important for building a better world. "It was vital that German militarism not be allowed to triumph over British and French democracies and the global order they represented", he writes. This stirs up anti-German prejudices, so most people think it must contain some truth. But in fact it comes from reflecting backwards from the Nazi experience.
German militarism in the 1914 version was repulsive, but if you'd gone with me to the site of the 1919 Jallianwala Bagh massacre in Amritsar, India, you'd doubt whether British global rule was any better. When a crowd gathered to protest against the arrest of two local community leaders, brigadier general Reginald Dyer gave the order and the army fired on the crowd for 10 minutes, firing largely towards the few open gates through which people were trying to flee. Dyer became a hero to old blimps of the Raj, but the massacre horrified all of India.
And which of Britain's other colonies were run democratically? What of its pivotal ally tsarist Russia – a model of democracy?
Australian ambitions
We still haven't decided why Australia joined the war. Fortunately, Greg Sheridan has more to say. In the run-up to the last Gulf war, he let the cat out of the bag. For Australia's rulers, the Great War wasn't primarily about bailing out the British at Gallipoli or Poziere. Rather, as he points out, "[W]e dealt with Germany's Pacific colonies … before we dispatched troops to Britain."
Canberra's first goal was grabbing territory and projecting power in its own sphere of influence. That wasn't just about thwarting the Germans, whose positions in the Pacific were indefensible anyway. It most of all was about securing a strategic position against the Japanese. In World War One, Japan was an ally, but that didn't stop prime minister Billy Hughes from plotting against it, and vice versa.
And when it came to local conquest, democracy and human rights counted for little. True, the platitudes were there, even if confused. Senator Mathew declared grandly that Australia must treat Pacific peoples "like grown-up children".
There was more to imperial rule than condescension. In the pre-war years, reforming German administrators in New Guinea had made some advances in the condition of local peoples. But human rights seem to have gone backwards once the Australians took over.
Historian Derryck Scarr records that the "often callow Australian servicemen who ruled the former German New Guinea from 1914-1921 were able to flog freely, just as their own concept of military justice allowed them to shoot pretty much at random when whites were killed by New Guineans". After 1921, the administration kept a "permissive view" towards punishment and was freer with hangings than the Papuan government.
In addition to grabbing territory, Australia needed to put in a juggernaut performance on the battlefield to make sure it had sufficient clout to confront Japan at the 1920 Paris conference. This was the macabre logic behind the intensive Australian war effort. Reminded at Paris that he spoke for only 5 million Australians, Hughes shot back: "I represent 60,000 war dead." (US casualties were far fewer per head.)
Having hurled enough meat into the grinder, Australia had the prestige among the delegates to belligerently oppose anti-racist arguments from the Japanese. These were more than ideology. Australia wanted to administer its Pacific territories on a legal basis consistent with White Australia. Japan was exposing this racist logic – for its own imperialist reasons, of course.
The Japanese were furious at Hughes; in revenge, they threatened to undermine US president Wilson's League of Nations project. But there was a ruthless way to mollify them. Wilson agreed to Japanese control of German-held territories on China's Shantung Peninsula. Here was a step deeper into the race conflicts that scarred the 20th century.
War myths
For most people, the carnage of the war was a tragic waste. Hughes made the toll of fallen "diggers" into bargaining chips to be cashed at Paris when the time came.
Children, asked on TV to explain the wonders of the war, commonly say the diggers fought for "freedom". But this is idiotic when applied to, say, Australia's invasion of Turkey, so the clichés quickly move on to the diggers' heroics.
Didn't Aussie troops fail at Gallipoli only because the British officers were fools? Not really. It was simply an unwinnable battle, against a fiercely determined enemy on difficult terrain.
Didn't our heroic diggers break through the Hindenburg Line – a fearsome series of German fortified positions? Yes, but other allies made similar breakthroughs at other points. A major factor was explosive gas shells that hadn't been available a year or two earlier. Delightful.
Then there is the incipient racist idea that Aussies are just naturally better soldiers – we learned to shoot in the bush, you see. I heard someone on TV during the recent football World Cup declare, "The Dutch are scared of us because we're Anzacs." This is much the same as one of Peter FitzSimons' semi-fictional diggers declaring, "Just cut our blokes loose on the Wops!" In fact, most army recruits came from cities, and most had to be trained to shoot.
In itself, it doesn't matter. What does matter is how tenacious these myths are – so hard to kill that a recent book about them is called Zombie Myths. Why is it so hard to kill them off? Because they serve the needs of the system.
Advertisement
Comments
Write a comment