State capitalism and the fall of the Berlin Wall
Posted by John, November 23rd, 2014 - under Revolution, Stalinism.
Tags: Berlin Wall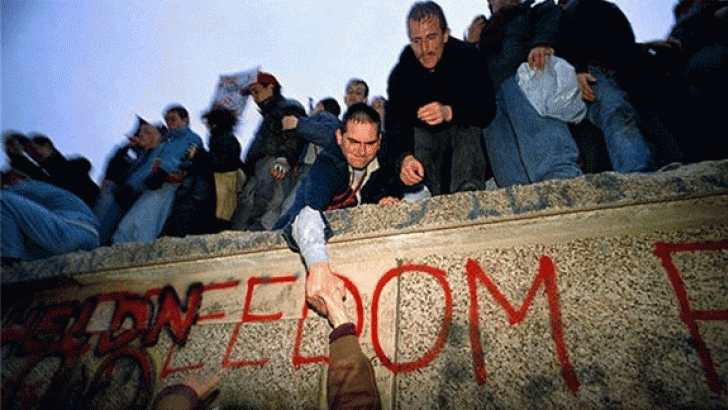 Here is a snippet from a good article in Solidarity in Australia about the fall of the Berlin Wall. It describes the Stalinist regimes as state capitalist. I would urge those interested in understanding how 'socialism' could be overthrown by the very workers it supposedly ruled for to read this. I would especially urge members of Socialist Alternative in Australia to read it to help re-discover their hidden history and analysis.
The failure of the Soviet Union was used as evidence of the triumph of capitalist free market ideology; there being, as Margaret Thatcher would repeatedly insist, "no alternative". But the regimes of the Soviet Union had nothing in common with the genuine socialism envisaged by Marx.
Socialism is meant to be about workers control of the means of production—that is raw materials, machines of labor, and land. This would allow production to be based on meeting society's needs, and overcoming the exploitation of workers, the vast majority, in the interests of a powerful minority.
But in Russia and Eastern Europe actual workers themselves had no control, and there was no democracy whatsoever. A small elite of Communist Party members, the nomenclatura, ruled these societies with an iron fist, amassing immense privileges for themselves.
How do we explain "socialist" societies which were marked by authoritarian control over production and the exploitation of workers, scarcity amidst industrial growth, and the brutal assault on various political and individual freedoms? In the 1950s British Marxist Tony Cliff developed the theory that Russia was not socialist but state capitalist, a form of capitalism where the economy was completely state owned, controlled by a repressive bureaucratic apparatus.
Stalin's counter-revolution in the late 1920s overthrew any last elements of the workers' power in Russia that resulted from the 1917 revolution, and placed state control in the hands of a bureaucratic elite.
Here is the link to the whole article, Eastern Europe and the Berlin Wall: 1989's people power revolutions
Advertisement
Comments