All praise King Abdullah
Posted by John, January 25th, 2015 - under Saudi Arabia.
Tags: Dictatorship
Jon Lansom at Left Futures has a good piece on Tony Blair and the recently deceased Saudi butcher King Abdullah.
Here is a snippet:
And remember what else you could be flogged for in Abdullah's kingdom:
for meeting members of the opposite sex who aren't "close relatives" like 75-year old Khamisa Mohammed Sawadi and two men one of whom she had breast fed as a child;
for being a rape victim, like the  19-year old "al-Qatif Girl" who was attacked and gang-raped by seven men but received 200 lashes after authorities claimed she had confessed to the "crime" of having an affair with the male friend she had been with at the time (who received the same sentence);
for being gay, like the 24-year-old man jailed for three years and sentenced him to 450 lashes for arranging a date with a man on Twitter;
for bringing the wrong kind of chocolates into the country like the Filipino man who didn't realise the two chocolate bars he'd bought on a stopover contained alcohol and got 75 lashes and a jail sentence.
Hit this link to read the whole exposé of Blair and Abdullah.
Here is a photo, I assume a re-creation, of what being flogged for being raped looks like. It certainly happened in Saudi Arabia in 2007 and on appeal the sentence was increased from 90 lashes to 200.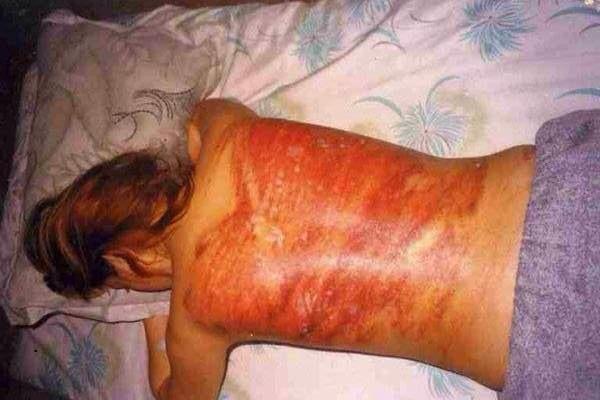 As Janine di Giovanni at Newsweek explains, beheadings are normal too, perhaps more so than by ISIS. According to di Giovanni '31 people were beheaded between August 4 and September 22, when the last victim was beheaded, for "sorcery." '
A woman proclaiming her innocence was recently beheaded for murder. The man who filmed the beheading (which human rights agencies showed) has been arrested.
No doubt all that free speech reform going on in Saudi Arabia will help change this. Oh that's right. As The Guardian points out 'Raif Badawi, the blogger sentenced to 1,000 lashes, to be meted out 50 at a time, was punished simply for running a liberal website dedicated to freedom of speech.'
At least the women of Saudi Arabia are free. Except they have to be accompanied everywhere by a male relative. And they are forbidden from driving. And four of Abdullah's daughters are under virtual house arrest and have been for ten years for suggesting women have rights too. And, and, and …
Don't worry. At the next election all this will change. Except they don't have national elections in Saudi Arabia. Power resides in figures like Abdullah (but not his 35 wives, obviously.)
So why this exceptionalism from the West for Saudi Arabia? Why this fawning over a brutal and medieval dictator? Oil. Oil prices. Arms sales. And despite its support for terrorism the dictatorship in Saudi Arabia is one of the strongest supporters of the US. They have common enemies, like Iran. Saudi Arabia provides 'stability' in the region. In other words the dictatorship keeps or helps keep the pro-US status quo.
That is why flags are flying at half mast around the world, including here in Australia, for this butcher.  "Our" governor general Peter Cosgrove has skipped Invasion Day celebrations to suck up to the Saudi dictators. It is after all about priorities.
Advertisement
Write a comment