With some Joyce words, Australia plumbs new depps and goes to the dogs
Posted by John, May 14th, 2015 - under Johnny Depp.
Tags: Barnaby Joyce, Dogs
I was listening to Lobo the other day. And lo and behold Johnny Depp arrives on our shores not only with Boo but Pistol as well.
Pistol? What are they? Gun dogs? No, they are Yorkshire terriers.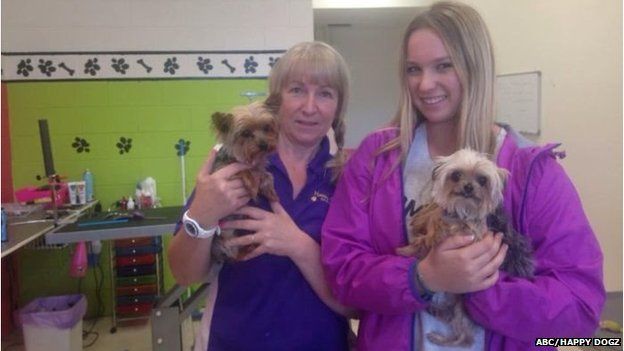 Depp's deception was discovered when he posted photos of the dogs being groomed. It is reassuring to know that all that extra money on spy agencies and border protection is money well spent.
Let's hope some of this dog sniffing expertise spreads to the tax office and catches the big business mongrels who avoid billions in tax.
Speaking of terriers, Depp's action in bringing his two canines to Australia in his private jet has unleashed the rabid dog killer in Agriculture Minister Barnaby Joyce. He has threatened to have Boo and Pistol put down if they are not out of the country by Saturday. Illegal arrivals must be dealt with harshly.
Joyce's interview is bound to become a minor masterpiece. It might also dog him the rest of his career.
The excuse for all this vitriol? The dogs might bring in various diseases. So why threaten them with death? Isn't it too late by now?
One alternative would have been to tell Depp privately to take his dogs back to the US. Why go public about this? The Minister has made it an issue and exposed once again the incompetence of this government. Who knows, maybe the best description of Abbott and co might be: Tough on terriers; weak on tax avoiders.
Maybe Joyce wants his 15 seconds cocking his leg on the international stage. He's got it. Maybe it was his Monty Python English pig dog moment.
Maybe it was a distraction from Tuesday's Budget as the facade of fairness begins to unravel.
Perhaps it could have been Joyce's way fo saying to ordianry taxpayers –  look we do attack the rich occasionally; leaving unsaid the reality that we just don' t tax them.
Barnaby's brain snap highlights the caring sharing nature of this government. Fresh from alienating new mothers in the Budget, what better strategy can they come up with than pissing off the dog lovers of the nation? In a Joyce move, the terrier Barnaby has unleashed a real winner. He's the pistol. Boo.
Advertisement
Write a comment