Je suis Zaky Mallah anyone?
Posted by John, June 25th, 2015 - under ISIS, Islamic State, Islamists, Islamophobia, Othering, The Other, Zaky Mallah.
Tags: Free speech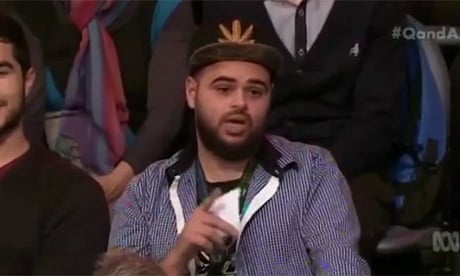 The reactionary Abbott government is using Zaky Mallah's appearance on Q&A to try to close debate on the draconian citizenship stripping powers it is legislating. It wants no discussion or understanding of why some young Australian men and women might travel to Syria to join ISIS or rage against Australian society.
Its wider agenda is to create an us and them atmosphere and exclude ' them' from society. Zaky Mullah is one example. Muslims more generally are another. Asylum seekers are a third.
The rhetoric and actions of the Prime Minister are becoming more frightening. He asked the ABC whose side they were on. Now he is saying, ISIS like, heads must roll. He has also ordered a Stalinesque government inquiry into the incident.
Mark Scott is no Gillian Triggs.  He won't stand up to the Abbott government and its attempts to suppress free speech. The way to defend the ABC is for the unions and workers there to stop work in response to these government attacks and to call mass demonstrations to shut our cities down in support of the organisation.
The added advantage for Abbott in all of this is that the Liberal government can attack a traditional enemy, the ABC. Again, while the hatred is real, it misunderstands the role of the ABC – to  present minor differences as major debates.
Its task is to create the impression there is no alternative to Labor and the Liberals (plus the Nationals and the Greens). It sometimes tries to do so with the mask of intelligence and capitalist objectivity but even that is too much for Abbott and his anti-Enlightenment crew.
Zaky Mallah blew the ABC's 'respectable' no real debate tango for a few minutes with his question to MP Steve Ciobo and then his response to the dangerous ideologue and Parliamentary Secretary to the Minister for Foreign Affairs and to the Minister for Trade and Investment.
In 2005 Mallah was acquitted of two terrorism offences. As part of a bargain he pleaded guilty to threatening to kill ASIO officials.
According to The Guardian:
Ciobo and Mallah engaged in heated conversation on Q&A after Mallah posed a question about his court case and how it would have been different had a minister decided the outcome.
Ciobo replied that he wasn't familiar with the circumstances of Mallah's case "but I'm happy to look you straight in the eye and say that I'd be pleased to be part of a government that would say you are out of the country, as far as I'm concerned".
"Rubbish," said Mallah, adding: "As an Australian I would be happy to see you out of the country."
Mallah later said: "The Liberals now have justified to many Australian Muslims in the community to leave and go to Syria and join Isis because of ministers like him."
There is nothing untoward in Mallah's comment. Peter Greste certainly didn't think a line had been crossed. He blamed the government for shooting the messenger.
Mallah raises a serious point. It is this government's actions in excluding Muslims which is helping radicalise a few of them. As Mallah told the Guardian:
Some young Australian Muslims – who were already feeling vilified – now feel they are being openly targeted by this government. They are saying they would love to leave and join jihadist groups.
They ask themselves, "Why should we Muslims live here, and be subject to this bullying, when in Iraq and Syria, Isis tell us we are welcome?" The harder the Abbott government pushes its counter-terrorism agenda, the more radicalised some young people feel.
The never ending invasions by the West (including Australia) of the Middle East and the support we give to 'our'  dictators there and the state of Israel are some of the underlying reasons, coupled with Abbott's Islamophobia and targetting of Muslims, why some of them take up the false flag of Islamic resistance.
These are dangerous times. The Abbott government is repressing differences outside the narrow neoliberal mainstream. It is gathering extreme powers to itself under the lie of protecting Australia. It is othering significant sections of Australian society. It is trying to silence the Human Rights Commission and the ABC.
The danger is real. That is why it is important to fight every attack of this rotten Liberal government. A good start will be the protests on 18 and 19 July across Australia against the Abbott endorsed (nudge nudge wink wink) Reclaim White Australia rallies.
I will post details closer to the date, along with stop the WA remote community closures.
There is a protest in Melbourne to defend remote communities on Friday 26 June at 3 pm at Flinders Street Station
Advertisement
Comments
Write a comment