Contribute to help keep John Passant reporting from the Canberra Press Gallery
Posted by John, May 7th, 2019 - under Uncategorized.
Tags: Canberra Press Gallery, En Passant with John Passant
En Passant is one of the most left wing blogs in Australia. Commenting intelligently on issues that arise in Australian and international politics from a revolutionary perspective, it aims to provoke debate and discussion among more left wing and socialist readers and activists. Its aim is to arm left wing readers with arguments against the latest capitalist atrocities and outrages.
I have been writing the blog, and railing against war, poverty, austerity, climate change injustice, Islamophobia, racism, sexism, and oppression (among other issues) since 2008. In short, I have railed against capitalism and all that is rotten flowing from it.
Not only that but I argue a way forward. We can make the world a better one through our own mass actions. Through our strikes, our demonstrations, our pickets, our boycotts, our sit-ins, we can change the world. These are examples of the fight for democratic socialism, of socialism from below.
We can and must fight in the here and now but ultimately to get rid of war, exploitation and oppression we need a world where production is organised democratically to satisfy human need, not to make a profit. That is socialism. All of us together can run our world.
If you want to keep a blog that makes the arguments every day against the ravages of capitalism going and keeps alive the flame of democracy and community, make a donation to help cover my costs. And of course keep reading the blog.
I have not in recent times been contributing very regularly to this blog. I have recently had my second book of poetry, 'Whose Broken is This? and other poems'(Ginninderra Press 2018) published. A third book is nearing completion. In addition the duo The Awesome plus a host of other talented musicians have collaborated to produce, thanks to Milena Cifali of The Awesome putting 7 of my poems to music, a wonderful CD called Whose Broken is This? I also read 4 of my poems on the CD and The Awesome and others play one of Milena's songs.
As well, I have been writing a weekly article for Independent Australia for some years. In August last year I became their Press Gallery representative. At about the same time I, a non-smoker for 36 years, was diagnosed with lung cancer. The type I have, Epidermal Growth Factor Receptor, is being treated with a tablet called Tarceva.
I have had a disagreement with Independent Australia. After discussions with the President of the Canberra Press Gallery, I have decided to continue as a freelance member of the Press Gallery.
I will post my regular freelance Press Gallery articles here while keeping access absolutely free. Hopefully I will also sell one or two to the mainstream media. To help this blog and its politics reach a wider audience, feel free to share my articles.
Most importantly consider keeping my blog going by transferring money to my Commonwealth Bank account:
Account Name: En Passant with John Passant
BSB: 062 914
Account Number 1067 5257
My costs are about $105 a week. Here is a list of approximate outgoings from memory.
$275 for my word press administrators – Domain group
$50 or so on average per year for refinements and repairs to the site by them. (This financial year it was $250).
$50 to Facebook to boost posts to Australian audiences of a few thousand. If I were to do this regularly (e.g. once a week, which is my aim) then my costs would increase to about $150 a week.
$3050 to mainstream media for subscriptions to the Sydney Morning Herald, the Canberra Times, The Financial Review and The Australian to stay abreast of events, issues and understand their views and commentary
$300 for subscriptions to left wing media (Crikey, New Matilda, and the like)
$79 business name registration for 3 years
$139 (?) for email address registration
$752 for Media, Entertainment and Arts Alliance (union) membership, including defamation insurance.
There are other ongoing costs I may well have forgotten.
$30,000 is my guess for my unpaid labour for writing an article daily for the website, distributing each article daily on social media etc. I am estimating pay at $30 per hour for two hours each day. Given I am writing less frequently than daily at the moment I estimate my unpaid labour costs at around half that, i.e. $15,000.
So my costs (excluding my unpaid labour) are almost $5350 per annum or about $103 a week. Boosting a post on Facebook once a week for $50 (an aim of mine) would increase the total of my costs per year to about $7850 and the weekly amount to $150 or thereabouts.
I receive no income from the blog. Since I am not likely to make a profit any time soon – only an upsurge in militancy by unions and social movements might see that and more likely people will turn to the established left wing papers and some mainstream media might veer a little left – I do not claim my losses for business tax purposes.
So if you want to keep an old man's blog going so he can continue to yell at clouds, donate now. Details again:
Account Name: En Passant with John Passant
BSB: 062 914
Account Number 1067 5257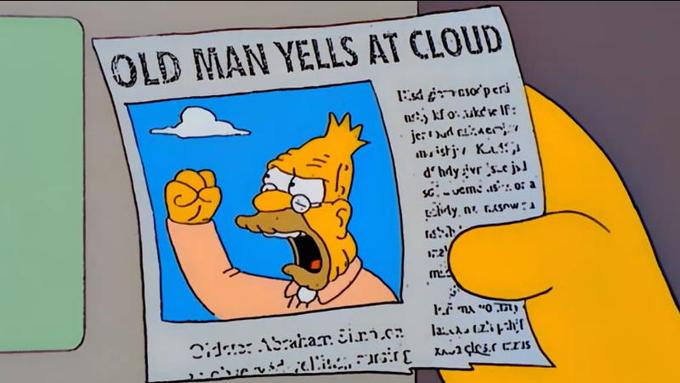 Advertisement